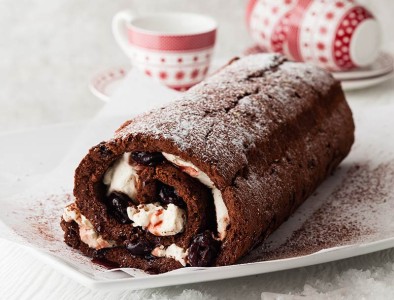 Ingredients
200g dark chocolate
5 eggs, separated
200g castor sugar
500ml cream, whipped
2 cans black cherries, pitted and drained and soaked in Kirsch
200g dark chocolate, grated
 Method
Melt 200g dark chocolate in microwave or over low heat until thick and creamy.
Beat egg-yolks until thick and light then slowly add castor sugar while continuing to beat.
Add cooled chocolate
Whisk egg whites and fold into chocolate mixture.
Pour into lined and greased Swiss roll pan and bake at 180C for approx. 30 mins.
When cool turn out onto foil paper and spread with ¼ of whipped cream and ¾ of black cherries.
Roll up into a log, cover with remaining cream and decorate with grated chocolate and remaining cherries.
(serves 10 – 12) I first tasted this delicious Black Forest Roulade at the Fern Hill Hotel (near Midmar). About a year later I found their recipe in a magazine and was absolutely delighted. I have made it several times and it has always been an absolute hit.