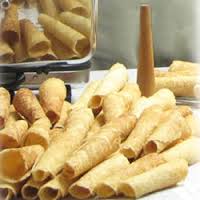 Krumkaker are my all time favourite Norwegian biscuit.
Ingredients
4 eggs
200 g sugar (nearly 1 cup)
200 g butter
3/4 teaspoon ground cardamom (available in Indian spice shops under the name of Elaichi)
250 g (2 cups) flour
Method
Whisk eggs and sugar to make stiff eggnog
Mix in the melted butter, cardamom and sifted four until fairly thick.
Heat the krumkaker iron and grease with butter the first time you use it.
Place a spoonful of mixture in the middle of the iron and 'squash' closed. Should be golden brown in about 1-1 1/2 minutes.
Now you have to be quick!
Remove the krumkaker onto a flat surface and roll around a dowel stick.  You have to be quick because it hardens very quickly. You can also push the krumkaker into a bowl which makes a nice base for a dessert. You can find some lovely ideas and images here. Also you can use 1/2 tsp sesame to make it more like the Chinese egg rolls.
You can purchase an iron through this link at Amazon . Just bear in mind that appliances in different countries have different watts.