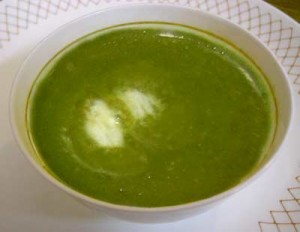 Yes, I know this sounds revolting! Actually, the result may well surprise you. Be warned, though, that this is not a dieter's dream recipe! Quantities can be adjusted to your own taste and / or requirements.
Ingredients
1 bag of spinach (as sold in the supermarket)
2 onions
4 potatoes
chicken or vegetable stock
Salt & pepper
1 carton cream
1 tablespoon Raspberry wine vinegar (this really does make the world of difference!)
Method
Dice the onion and potato. In a saucepan, melt a knob of butter and add the diced onion. Cover the saucepan and allow the onions to sweat over a low heat. Add the potato, stirring to coat with the onions and butter and leave to simmer for a couple of minutes. Add enough stock to cover the potatoes and bring to the boil until the cubed potatoes are soft.
Meanwhile, wash and shred the spinach by hand, removing the stalks and any tough bits. Add to the saucepan, cover and allow to simmer for a further 7 minutes.
Blend together and add the cream and then the raspberry wine vinegar and season to taste. Delicious served hot or cold.
As an alternative, use butternut instead of the spinach, and add it to the potatoes and onions to simmer until soft. Then follow the instructions as above