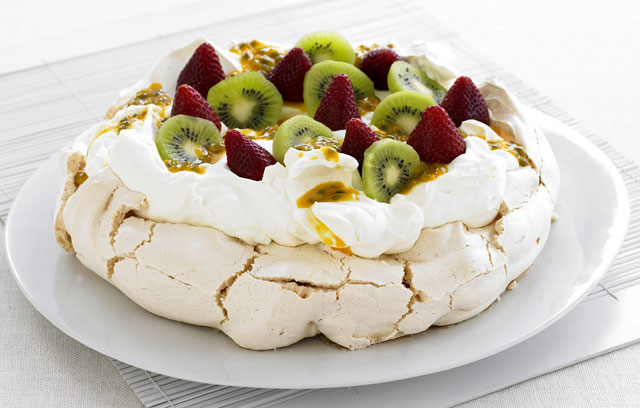 I found this recipe in a library book I borrowed many years ago.
This is how the author described this dessert.
"A dream of a dessert – a fascinating soft-centred meringue piled high with whipped cream and fresh fruit. Our favourite description came from a regular Chardonnay diner addicted to Pavlova: 'It's not only the debauched combination of flavours and texture, it's so beautiful! Just like one of the Queen Mother's hats.' The recipe was created by a chef named Sasche at the Esplanade Hotel in Perth – he made it especially for the legendary prima ballerina after whom he named the dessert, commemorating Anna Pavlova's visit to Australia in the 1920's. If you follow our recipe very carefully, your Pavlova will be perfect every time. For the fruit, strawberries are best, but you may also choose a mixture of sliced and diced pineapple, apple, mandarin oranges, peaches, bananas and kiwifruit."
Ingredients
Serves 10
Serves 8
Filling and Garnish
8 egg whites
500 g castor sugar
30 ml (1 T) cornflour
15 ml (1 T) vinegar
15 ml (1 T) vanilla essence
6 egg whites
375 g castor sugar
20 ml (4 flat teaspoons) cornflour
12 ml (2 1/2 t) vinegar
12 ml vanilla essence
FILLING:
500 ml (2 cups) cream Fresh fruit.GARNISH:
Fresh  sprigs of mint and/or peppermint
Method
Preheat oven to 190 C.
Whip egg whites until stiff. Add sugar in five 100 g measures, beating for 1 minute between each addition. Into the last measure of sugar, mix the cornflour, then add vinegar and vanilla  essence. Beat for a few minutes more until meringue mixture is thick and glossy. Cover baking tray with foil, shiny side down, and spray lightly with cooking spray. Using a firm spatula and large spoon simultaneously, form a round base of meringue about 20 cm in diameter and 7 cm high, then spoon large dollops of the mixture around top edges of base to form high sides with a well in the centre. If meringue becomes soft and starts to flatten out, lift sides by scooping up and in towards centre. Before baking, the meringue must stand tall, as it spreads while cooking and a flat  Pavlova is nothing short of disastrous!
Bake in centre of oven for 10 minutes at 190 C, than reduce heat to 100 C for a further 1 1/2 hours. Switch off heat and allow Pavlova to cook completely in oven.