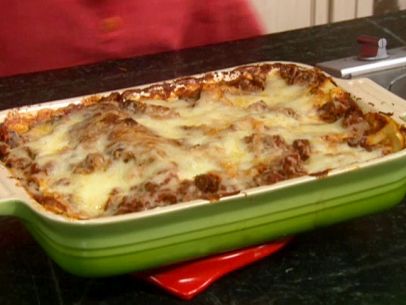 250 g lasagne sheets
MEAT SAUCE
1 large onion, chopped
2 cloves garlic, crushed
250 g rindless streaky bacon, finely chopped
25 ml cooking oil
600 g lean minced beef
1 carrot, scraped and finely chopped or grated
2 stalks celery, finely chopped
1 x 410 g can tomatoes, pureed with juice
25 ml tomato paste
250 ml white wine
250 ml beef stock (1 cube)
5 ml dried oreganum or sweet basil (or chop up fresh
salt and pepper to taste
WHITE SAUCE
100 g butter
125 ml flour
1 l milk
125 ml grated cheddar cheese
salt and pepper to taste
TOPPING
125 ml extra grated cheddar cheese
Method
Make the meat sauce first.
Fry onions, garlic and bacon in heated oil for 5 minutes.  Add meat and stir-fry, breaking mince up with a fork until mince changes colour. Add carrot, celery tomatoes and paste, wine stock and seasoning. Cover and simmer for 90 minutes. If mixture cooks dry, add more water. The mixture should be quite sloppy and not dry.
Make the white sauce by melting butter in another saucepan, stir in flour, then gradually beat in milk, beating with a whisk until mixture is smooth and boiling. Stir in cheese and adjust seasonings.
Butter an ovenproof lasange dish and spoon a layer of meat sauce, then lasagne sheets, then white sauce, then lasagne sheets. Contiue in tis order ending with a layer of white sauce, sprinkle extra cheese over and let stand for at least 30 minutes before baking in a preheated oven of 180 C for 30-40 minutes. Stand for 10 minutes before serving. Serves 6.