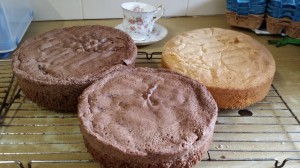 I had way too many eggs so make these sponge cakes to go into the freezer for future use.
Ingredients:
6 eggs
180 g sugar (200 ml)
180 g cake flour (350 ml)
1/2 -1/4 teaspoon baking powder
Method:
1.Whip the eggs until light and fluffy, gradually adding the sugar, until thick
2. Fold in the sieved flour (I often don't bother to sieve flour, but in this recipe it is needed).
3. Line a round baking tin (24-26 cm diameter) with baking paper (wax paper) and spray with Spray and Cook.
Bake at 180 C for 30 mins.
Chocolate sponge cake
Ingredients:
4 eggs
120 g sugar
25 g cocoa (4 tablespoons)
1/4 teaspoon baking powder
1/2 teaspoons vanilla sugar ( I left this out as I didn't have any)
Method:
Same method as above, except that this quality is for a smaller tin – 22 cm in diameter.