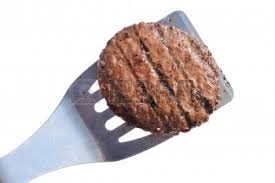 Ingredients:
500g minced beef
1 egg
1 tablespoon dry breadcrumbs (or crushed All Bran flakes)
1 small onion
1 clove garlic, minced
1 tsp salt
1/4 teaspoon pepper
Method:
1. Combine egg, onion (cut in 4), garlic, salt, pepper in a food processor to mix and cut onion up fine.
2. Place minced beef in a bowl and mix in the the onion mixture. Form into 6 large patties and fry in oil – 4 minutes per side.
3. Place a lettuce leaf on one half of a hamburger roll. Top with cooked pattie, an onion ring and slice of tomato.
Serve.
Variations:
1. Use 1 small grated apple instead of the breadcrumbs.
2. Add 2 tablespoons chutney to the mixture.
3. For a cheeseburger, place the pattie on the half roll, sprinkle with a tablespoon grated cheese and place under the grill to melt the cheese.
I fried them in coconut fat which I had found on special at my local shop. This worked well and is healthier than regular cooking oil.